The Masason Foundation held an online event "A Message to Those who Will Create the Next Generation" on May 28, 2022, for Foundation members and Generation 6 applicants. The event featured a speech by Masason Foundation Vice President Shinya Yamanaka, Director Emeritus / Professor, Center for iPS Cell Research and Application (CiRA), Kyoto University, where he shared why he got started in medicine and research, what he values as a researcher, and things that helped him in creating iPS (induced Pluripotent Stem) cells. He also answered questions from participants such as "What is your vision and what do you want to accomplish in your life?" Click here to watch the video of the event!
Life motto "VW"
After his father became ill, Prof. Yamanaka decided to pursue a career in medicine. He changed his career from a clinical doctor to a researcher, aiming to overcome illnesses that cannot be cured by current medical science through research. After obtaining his Ph.D., he went to the U.S. to study, where he learned from the director of the institute at the time, his life motto, "VW (Vision & Work Hard)," which is the key to success as a researcher. He reflected on his time in the U.S. saying that he learned the importance of having a vision.
After returning to Japan, he struggled with the differences in the research environment between Japan and the U.S., but seized a great opportunity to have his own laboratory at the Nara Institute of Science and Technology (NAIST). Prof. Yamanaka, who was an assistant professor and still unknown at the time, valued "VW" in order to attract graduate students to join his laboratory and made the creation of a pluripotent cell that can create any cell from skin and blood cells, the vision of the laboratory.
The Importance of Interacting with People from Different Fields
In conducting research at NAIST, Prof. Yamanaka said that he faced a big obstacle. "It would be wonderful if we could create this pluripotent cell, but it would be extremely difficult; it might take 20 or 30 years, and there is a greater chance that we might not be able to do it even if we tried for the rest of our lives." However, he introduced an episode in which a professor studying plants at the school, which has laboratories in a variety of fields, told him that plants are full of pluripotent cells, and said, "I realized that I had put on the brakes on myself and the importance of interacting with people from different fields. The Masason Foundation is a place where you can interact with people from different fields, so I hope you will interact with many different people". He also explained that, thanks in part to such opportunities, he succeeded in producing iPS cells in 2006 and is currently working on medical applications of iPS cells.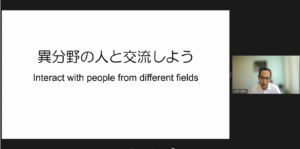 The Greatest Mission of Humanity is to Protect the Earth
Prof. Yamanaka concluded his lecture by saying, "I am worried that one day science and technology, which have been advancing remarkably recently, will overtake human culture and control human beings," and that "the greatest mission of humanity is to protect this beautiful earth" and "I hope that you will do your best not to be used by science and technology but to be the one to use it."
After the lecture, Yuki Haba, a Foundation member and a Ph.D. candidate at Princeton University who is conducting research in evolutionary genetics and behavioral ecology, served as a facilitator and Prof. Yamanaka himself answered a variety of questions from the participants, including what has been difficult as a researcher and the ultimate goal of research. He concluded the event with a message of hope saying, "Your potential is unlimited. I hope you will make the most of this Foundation and fully demonstrate your abilities".
Video: A Message to Those who Will Create the Next Generation
*If the volume is low, we recommend using earphones to listen to the video.